Straw briquette device is a new kind of new-style straw coal machine, which is available in the market at very low cost. The machine is renewable; environment protected and has the functioning of biomass cleaning. The straw briquette machine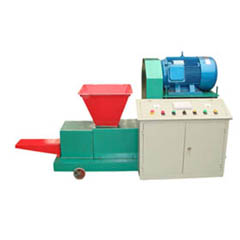 is widely used in hotels, restaurants and industries where they perform coal boiler functioning and the save huge amount of fuel cost. The length of raw material that we can use in straw coal machine is between 2 mm to 90 mm. Moisture contents of the materials should be between 5% – 30%, and the shape of product must have a diameter between 6mm to 60mm. The energy parameters of the straw coal are 3500 Kcal to 5500Kcal.
The straw briquette machine is suitable for every material that has moisture contents less than 30%. The system of electric heating in the machine is automatic, and it adjusts itself according to the humidity of material so that problem of congestion may not come. The best thing about the machine is its simple structure, easy to operate functions, and automatic electric heating adjustment. The materials that are best for briquette machine include wood, straw, peanut, seed hulls and all other raw materials that are available to you. The thing that you should note while using the raw material is that it should not have moisture content of more than 30%.